Baked tofu I think has to be my favourite way to cook this misunderstood food. The oven manages to dramatically improved the flavour and texture. Cooked with a sauce or marinade, the flavours become locked in while the texture becomes firmer and more "meaty".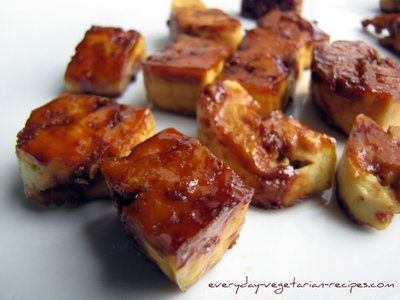 Baked tofu pieces keep well for a few days in the fridge and are good added to salads or sandwiches or served with cooked vegetables dishes. Here's how to make it..
Prepare The Tofu
I have seen recipes for baked tofu which recommend pressing before cooking. While I'm a big fan of pressing before frying, I don't see the point when baked. Baking will naturally remove any excess water.
You can cut the block any way you like from small cubes to triangles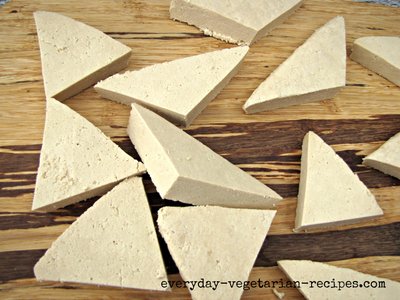 Another option is to cut the block into four large rectangles if you like the idea of a "tofu steak".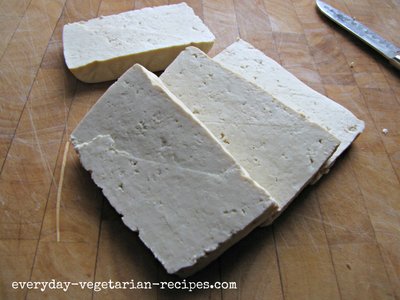 For this recipe, I've cut it into small cubes. Next you can choose to add a sauce or not. Some simple ideas are brushing with barbecue sauce, soy sauce or teriyaki. Tossing the pieces with a little Chinese Five Spice powder is also good. The other option is to marinate the tofu. The picture at the top of the page shows some tofu pieces that I lightly brushed with yummy kecap manis
before baking which is definitely one of my favourites.
Place the tofu pieces on an oiled or parchment-lined baking sheet.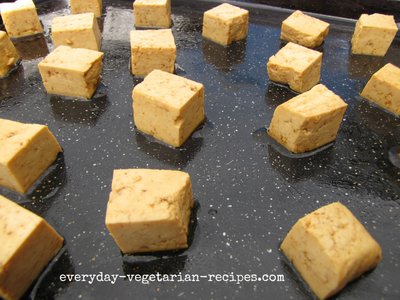 Bake in the oven at about 400F/200C. How long you bake for depends on how you like it. After about 15 minutes, it will look something like this. The outside will be lightly crisp and the inside will be soft and it is ready to eat.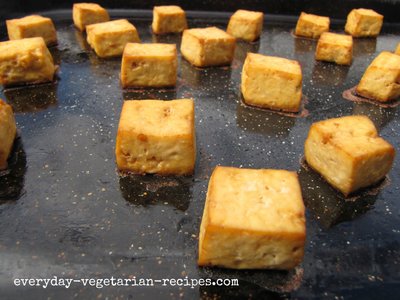 At this stage, I usually flip the pieces over and bake for another 15 minutes. After a full 30 minutes, the tofu is golden and dense in texture which is how I like it.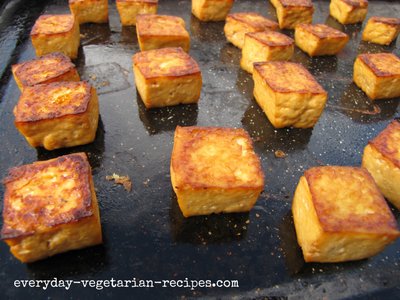 Baked tofu is kind of irresistible so now you just have to try not to sneak too many pieces when taking them off of the baking sheet;-) Enjoy!
---